Back in the Spring , when I planted the "Mystery Squash" seeds, I also planted seeds for a variety of squash called 'Sunshine' that I purchased at a nice seed source
online
.
The description was encouraging,it said that these would produce a generous crop of small 3 pound-ish fruits from August til first frost. I planted them as an alternative to Pumpkins as I have had bad luck growing those in the past and figured I would give these a shot knowing that they would be small, yet still a tasty alternative and very similar in shape to a small attractively dark orange pumpkin. Well I finally have a squash on my vines and I hope that it will start getting bigger soon, because even though I was prepared for small, this is a tad bit too small even for me.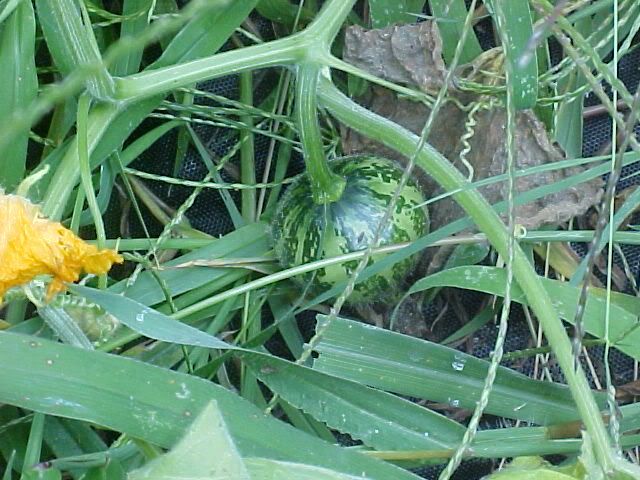 I know in my head that this baby has 4 more weeks until we have a real danger of frost, but in my heart I am fearing an early frost this season, and I would really love to get more than one of these fellas.
Truely I dont get the size thing...I just don't get it, maybe its the soil on that side of the garden that is prompting all my squash to be miniatures. The weeds seem to grow full sized there, and the zucchini are doing fine....just the squash.....hmmmm....Curiouser and curiouser.